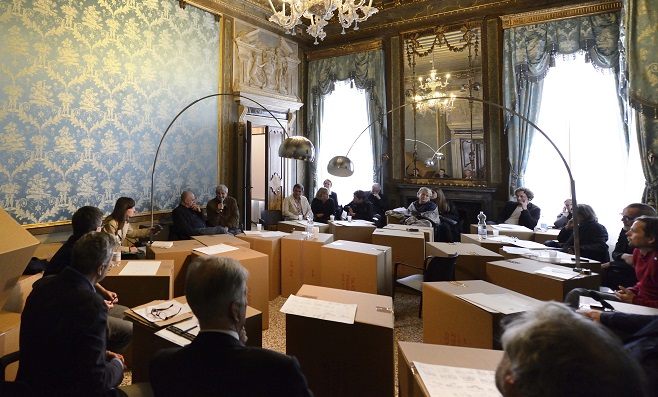 During the opening days of the 55th International Art Exhibition – Venice Biennial D/A/C/ will reach the 11th appointment.
On May 30th 2013 from 3 p.m. to 5 p.m at Palazzo Giustinian Lolin (A a panel of international artists, entrepreneurs and exponent of public administration will meet each other to get at the second level of the whole project.
Passing throw a first theoretical phase to focus on method and possibilities to share common projects dedicated to the industrial product, artists and entrepreneurs will speak now about tangible, concrete and pragmatic solutions.
The Artists and Entrepreneurs that will attend the panel are:
Jean-Baptiste Decavèle (artist) and Yona Friedman (architect), Nico Dockx (artist), Annie Ratti (artist) versus Bert van de Linde (entrepreneur) and Andrea Dapretto (Town Planning Councillor of Trieste, architect); Gianfranco Baruchello (artist) versus Marcello Zaccagnini (entrepreneur); Fabrice Hyber (artist) versus Roberto Crivellini (entrepreneur); Luca Vitone (artist) versus Maria Candida Gentile (entrepreneur, "nose" maître parfumeur)
The panel discussion is moderated by Giovanna Felluga (AtemporaryStudio).
All the guests will seat around a table/piece of art, as usual during D/A/C/ meetings, designed in this particular case by Jean-Baptiste Decavèle e Yona Friedman.
The table, made by cardboard, material usually used by Friedman, is a mobile structure, light and nomadic, like most of Friedman's projects (Mobile Architecture) that conveys new ways of looking, spreading and knowing Art.